Commercial Concrete Forming
Foundation footings and walls, retaining walls and ramps; raft slabs, mud slabs and complete curbs & sidewalks
High-Rise Concrete Services
Mud slabs, footings, raft slabs, cast-in-place walls, balconies, ramps, parking garage, floors & more.
Municipal Curbs & Sidewalks
We offer our services to Municipalities; concrete curbs, sidewalks, medians, barriers & catch basins.
Residential Concrete Forming
We offer our services to new home builders, general contractors for large residential projects
CONCRETE FORMING SERVICES
ABOUT RIVERSIDE CONCRETE FORMING
Riverside concrete forming was started in 2017 upon the realization that the construction industry could be provided a superior level of customer service, especially in concrete construction management services. Riverside Concrete Forming has made it our mission to be at the forefront of our industry in terms of customer service, high quality workmanship, safety and innovation. Along the way, we have built a team of industry experts who share our vision, we have created strong working relationships with our customers throughout southwestern Ontario through developing a progressive company with a focus on implementing new solutions in a stagnant concrete forming service industry. Our priority is to be the leader in reliable customer service and top-notch workmanship within the concrete management industry. We understand our customers are earned, not bought. We keep consistent with our customers through our commitment to preserving their budget, schedule and reputation.
We will travel 100km (Sarnia, Kitchener, London, Strathroy, Stratford, Simcoe & St Thomas for commercial concrete projects. We will also travel 65km (London, Strathroy, Stratford, St Thomas & Tillsonburg) for large scale residential concrete projects.
Contact us and give us the opportunity to earn your business today!
SPECIALIZING IN COMMERCIAL & MUNICIPAL CONCRETE
VIEW PROJECTS IN EACH INDUSTRY
All
Commercial
Residential
High-Rise
Municipal
We use Riverside Concrete Forming when building our new rental apartment towers. They have the equipment needed to get the job done right and on time. They provide professional service, industry expertise & consistent reliability.


Drewlo Holdings Inc.
Lifestyle Apartments
OUR LATEST CONCRETE FORMING PROJECTS
It's 5:00 am. Employees from Riverside have arrived at Drewlo's newest development – Block 599 in Alpine Village. Concrete trucks are lined up on the site, tarps are being drawn from the rebar, and the [...]
When you join the Riverside team, you join a company that is dedicated to fostering an environment that gives back to community.   Last year, our company donated over $4,000 to local charitable causes and families [...]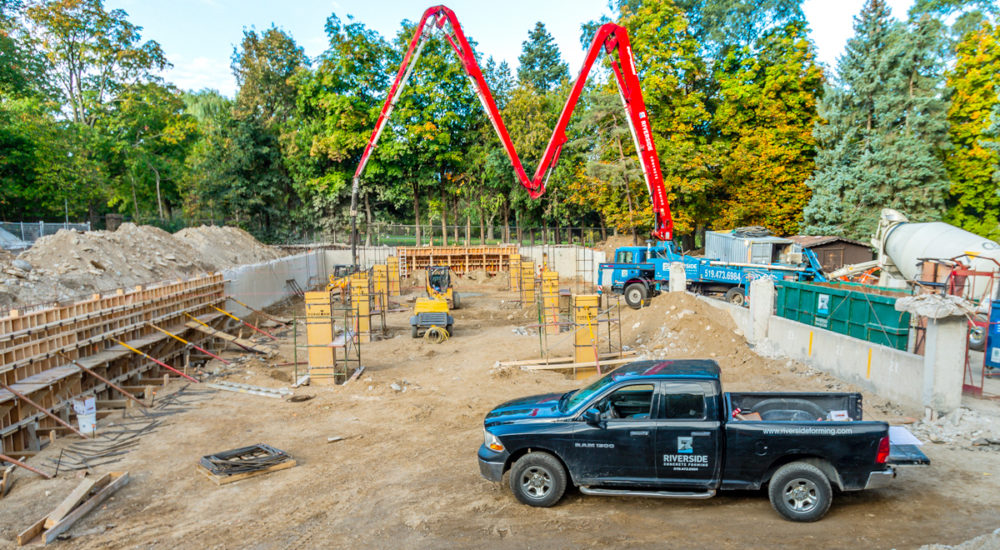 We completed the full restoration of a parking garage for an apartment building in London Ontario. Oxford Park Towers needing a brand new parking garage so Drewlo Holdings contacted Riverside Concrete Forming for a competitive [...]
EXPERTS IN CONCRETE FORMING SERVICE
CONCRETE FORMING SERVICE AREAS
CONCRETE FORMING SERVICES IN SOUTHWESTERN ONTARIO
Please note that our concrete forming service areas change depending on the scope of work. The icons below are located on the map. These icons indicate the distance we will travel:
100km for commercial concrete projects (Sarnia, Kitchener, London, Strathroy, Stratford, Simcoe & St Thomas).
65km for large scale residential concrete projects (London, Strathroy, Stratford, St Thomas & Tillsonburg).